Steps in Building a Strong Team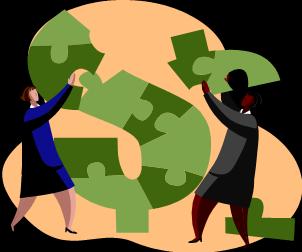 There are three key steps to building a strong team.
1. Own the development process
A strong leader holds himself or herself accountability for the development of others. Research suggests that the most successful leaders, over the long-term, spend upwards of 50% of their time focused on the issues of their team and the people in the organizations. Beyond time, the strong leader holds others accountable for development - requiring measures, reports and an equal focus on the development and leadership of talent in an organization. Finally, the organization must build systems, process and rigor that support the identification, develop and measurement of talent and talent development.
2. Balance the use of internal and external candidates
Internal candidates, too often, are hampered by the very fact that they are known quantities. Their history, their past blunders, their flaws are all part of the corporate stories. Rather than being looked at from the perspective of current competencies and results, old stories reflecting old news are resurrected as evidence of an incomplete package. External candidates bring a patina of freshness, and packaging focusing on their strengths and accomplishments. Hidden underneath this packaging lurk questions about flaws, motivations, and cultural fit. While systems exist to reduce these risks, failure to integrate at more senior levels carries both high risk and a high impact on the organization.
3. Knit together complementary team skills
Each person brings their own strengths and limitations to the team. While the first step is to recognize these differences, and to staff the team with complementary skills, the successful leader knits the team together. With a clear understanding of each other's strengths, a strong vision for the future, a clear expectation for how the team are to work together, and a culture that supports and rewards working together to achieve goals, a leader can create a strong team that complements and supports one another.
To assess yourself, your team or your organization, consider the following:
Does your team know their strengths?

Has the organization defined metrics and targets for people development?

Are there systems for identifying, developing and measuring talent?

Is there a staffing plan that balances internal development and staffing with external hires?

Are there established expectations about how teams work together?

Is there an environment where working together is encouraged and rewarded?
Read Solutions Group works with organizations and leaders to develop an understanding of the business and organizational challenges, develop the direction appropriate for the culture and size of the organization, provide focused targeted training and/or facilitated workshops, and support the delivery of a solution. Whether one-on-one with key leaders or working hand-in-hand with your leadership team, Sherry Read will stimulate the creative thought processes to generate a wider range of practical, value-adding solutions to business, managerial and human resource issues.
Labels: building teams, career stallers